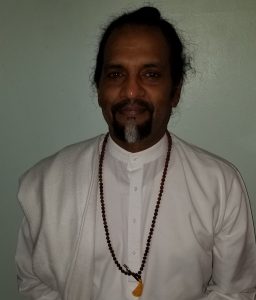 About The Author.
(Please leave your suggestions for improvement or comments at the bottom of this page)
I am an Engineer, A Hindu Pandit (Priest) a Father, a writer, a student of life, and like everyone else, also a child of God.
As a writer, expression of the self, coupled with my sense of values, and used to describe my ideas, thoughts, feelings and experiences is one of the most beautiful tools at my fingertips. The ability to express myself in this way is a blessing shared by many countless others but is experienced differently by each. It is my joy and my utmost pleasure to be able to do this and I feel fortunate to have my writings read by my fellow beings.
I must thank my wife Dee, son Avinash, and daughter Vashti who has been very supportive and understanding
during the many hours when my mind was focused on my writing instead of them. Over the years, they showed tremendous patience in listening to me reading or my recollections, as I worked on putting together my poems, stories, books, spiritual lectures (See Here on YouTube) and other writings. Even my dogs, first Stixx of 15 years, and now Alpha, both have learned to come and sit at my feet, waiting patiently for that moment when I will look up from my laptop and give him some well deserved attention. In addition to reading and writing, I enjoy playing basketball, biking, gardening, and testing my discipline in sticking to a weekly workout schedule. One of the summer activities I enjoy immensely is going to my favorite beach, Robert Moses Beach on Fire Island. This, I like to do as early as I possibly can, so that I can enjoy the calm and solitude of the mornings, before it is shattered by the late arriving crowds. 
My first book titled 'The Heart of The Sun' can be purchased here on Amazon, at Authorhouse or Barnes & Nobles. My free Ebook 'When Leadership Is Missing' can also be purchased on Amazon.com of you can download a free copy here on Our Download Page. Some other writings can be found on My Select Articles Page and Many of My Poems can be read at The Poetry Garden.
Born to Pandit Budhram Mahadeo 'Papa' and Rajkumaree Mahadeo 'Mama', at Number 66 Village, Corentyne, Guyana, I am the fourth of five children. My siblings are Vidya 'Deedee', Dr. Vishwa 'Buddy' or 'Bhaiya', Dr. Vishwanie 'Shan' or 'Lil' and Dr. Yoganand 'Yog'. I attended No. 68 Primary School and after passing the Common Entrance Examination, I was accepted into Tagore Memorial High School. The five years of high school flew by really fast and it was during those impressionable years that most of the stories told in this book occurred. My 'addiction' at the time was comic books ranging from the 'Commando' series, to 'Superman' and 'Ironman' series, and this obsession negatively impacted my performance in school. I really kicked my studies into high gear only in Form 5, a few months before the final GCE 'O' level examinations. (General Certificate of Education is an academic qualification boards in the United Kingdom). Thanks to Mama, my elder sister Vidya, and my Mamoo, I passed all seven subjects of the GCE. Mama even woke me up at 3:00 am each school day so that I could study in the relative peace and quiet of the morning. 
The following year was spent planting rice, tending the vegetable gardens and learning carpentry with my Mosa (the husband of my mother's sister) from Number 47 Village, which was about eight miles away. During this time, I rode my bicycle the eight miles in the morning to work at the construction job at Number 48 Village and back home in the afternoon. On days when my bike was in disrepair, I paid for a ride on the Tata bus. During the weekends, I also performed religious services for families as my brothers also did. These ceremonies were arranged by Papa and sometimes were seven consecutive nights of 'Havan' services.
A few months later, at the insistence of my sister Vidya, I wrote the entrance exam in 1979 to attend the Guysuco Technical Training School in Port Mourant., which was known as the Port Mourant Training Centre. This four year course was designed so that the first two years were spent in the college, and the last two years working as an apprentice at the machine shop at the Skeldon Sugar Factory. After finishing the four year course and graduating, I worked at the sugar factory over the next few years as a machinist and shift mechanic in both, the night and day shift.
I left Guyana for New York City and because I came from a fairly quiet village, used to the country life, I found the size, hustle and bustle, and loudness of New York City to be impersonal and somewhat uncomfortable. My first job was on Canal Street in Manhattan. Ultimately my discomfort in NYC and my yearning to learn more led me to Long Island where I landed a new job. This opportunity allowed me to learn and apply my newfound engineering and machining skills. Here the kind owner gave me a willing worker, the keys to the Machine shop and fourteen hour workdays. Six months later the true beauty of family emerged as our first blessing came in the form of our son Avinash, the cutest little baby boy. Three years later, a second blessing came in the form of our beautiful little darling daughter Vashti Devi and this started a journey of happiness which continues to this day.
I grew up always open to challenges. Every path I have taken so far has led me to this journey of stepping outside of myself to communicate personal thoughts and scribbles into formal writing to share. I sincerely hope that some of this connects with you in some manner, help to bring back some memories and if not, then at least encourage you to learn more or to visit Guyana and reconnect.
If you have any questions or comments please feel free to Contact me.
Pandit Jag B Mahadeo